Recover Hard Disk Data Even In Insoluble Circumstances!
Almost the entire online industry is filled with a range of solutions promising the ability to recover hard disk data but only a few are capable enough to keep up their words. Hard Drive Data Recovery solution is amongst the top ranked applications that are fully capable of rendering a successful yet safe recovery of hard drive data. The only condition is that the system must be functional; the tool can repair data lost from Desktop, Partition, or even external hard drives.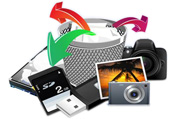 Even other external storage devices like Pen Drives, Disc, Memory Card, etc are accepted by our software to perform data recovery on. You just need to connect the device on your system and run the application; this will help you know the procedure of performing hard drive data recovery.
When And How To Recover Windows Hard Drive Data?

Basically, hard drive data corruption may happen to occur due to any probable cause or element of corruption like malware, abrupt closure of the system, formatting of the partition, etc. Meanwhile, there Chkdsk named command-line utility is offered by Windows that is capable of examining entire hard drive partitions of your system to reveal the issue. This utility even tries to repair data after analyzing the partitions but only performs this recovery in case of minor corruption.
The cases that Chkdsk utility can handle are; lost clusters, bad sectors, directory errors, cross-linked files, etc. To employ Chkdsk utility in usage one must log on to the computer as the administrator or one of the members of the respective group only.
Beware!
When the utility tries to recover hard disk data, possibilities are that it may fail or you may face inconvenience which might have been caused because:
The utility may possibility take a long duration of time to recover Windows files which all depends on the amount of folders and files, size of the partition, performance of the disk, system resources available, etc.
There are huge chances that it may not report the information appropriately in a read-only mode while trying to Recover Data From Windows Hard Disk.
NOTE: The most important thing to do is NOT BOOTING the machine once issues have been surfaced with its hard disk. Only booting the system leads to the writing of data on disk. In case you are stuck with deleted data issue booting may take up the space used by the respective data by over-writing. And if corruption is the case, writing of any amount of data to the disk is capable of making the situation even worse.
The simplest solution is to avail an external Windows data recovery tool like our Hard Drive Data Recovery application which can recover corrupt, formatted, and deleted data from partitions, pen drives, memory cards, etc.